One of the biggest upsides to being a recently launched domain extension is that .CO is a wide-open name space with tens of millions of incredible domain names still up for grabs. Unlike some of the legacy domain extensions, with .CO, chances are great that you can still get the domain name you really want for your business, brand or blog – without having to settle.
This said, with over 1.5 million domain names already registered in the .CO name space, there is a chance that the domain name you want the most may already have been nabbed by some other smart girl or guy who beat you to the punch.
But don't despair! Getting the perfect .CO domain name for your startup, business, product or personal site is not impossible. Since domain names are registered for specific time periods, previous registrants (the individuals that currently have the domain registered) sometimes let go of their registered domains…or forget to renew. While we never want happy .CO-ers to forget to renew their domain and do all we can in connection with domain name providers to help them renew early, the fact remains that some have no need for their domain name beyond a short time period or decide on another name for their website that makes a better fit for their idea, product or service.
Well the good news is that their loss is your gain! Whenever someone fails to renew their .CO domain name, it means there is now a great, "slightly used".CO domain up for grabs when it "drops" from active registration. Slightly used, means there is traffic built – so that can be a very good thing!
A "dropping domain" is a domain that has gone through the full Expiration process and has entered a cycle called Pending Delete. Once a domain name enters Pending Delete, it will automatically be released (or "dropped") from the system after five days and become available for re-registration. This means, you get a second chance to register that perfect .CO domain name that you missed out on once before!
Expiring domains have become very valuable and the competition for dropping .CO domains is now extremely fierce. Many domain name investors search the Dropping Lists (list suggestions can be found below) daily for opportunities to scoop up some great domain names and to sell them to interested parties for a lot more money than what they paid for them. In many cases domain investors use a Backorder service. A backordering (or domain dropping) service is an automated system that attempts to register an expiring domain for you the instant it becomes available.
Seize your opportunity now. We encourage startups, small businesses and anyone with a dream or idea that needs the perfect name to search the Dropping Domain lists and to leverage Backorder Services to help you snap up some great .CO domains that will be released/dropped in the near future. Many providers also offer additional services or analytics on the soon to be dropped names to help their customers decide on the best option.
Researching the dropping lists is just another way to find your perfect .CO web address.
Search for your ideal .CO now by clicking here. If the domain is going to be dropped in the next 5 days, we now help you by offering backorder provider options to secure your .CO right away. Also, listed below are a few of the many places where you can search, backorder and acquire .CO Dropping Domains.
Name.com
HEXONET
NameJet
Domain Monster
GoDaddy Domain Backorders
All of this may sound new and confusing to you so, to help you understand the lifecycle of a typical .CO domain, we've created the Domain Lifecycle chart below. Please feel free to contact me at Crystal (at) Go.co with any additional questions you may have about dropping domains and how they can help your startup or small business flourish!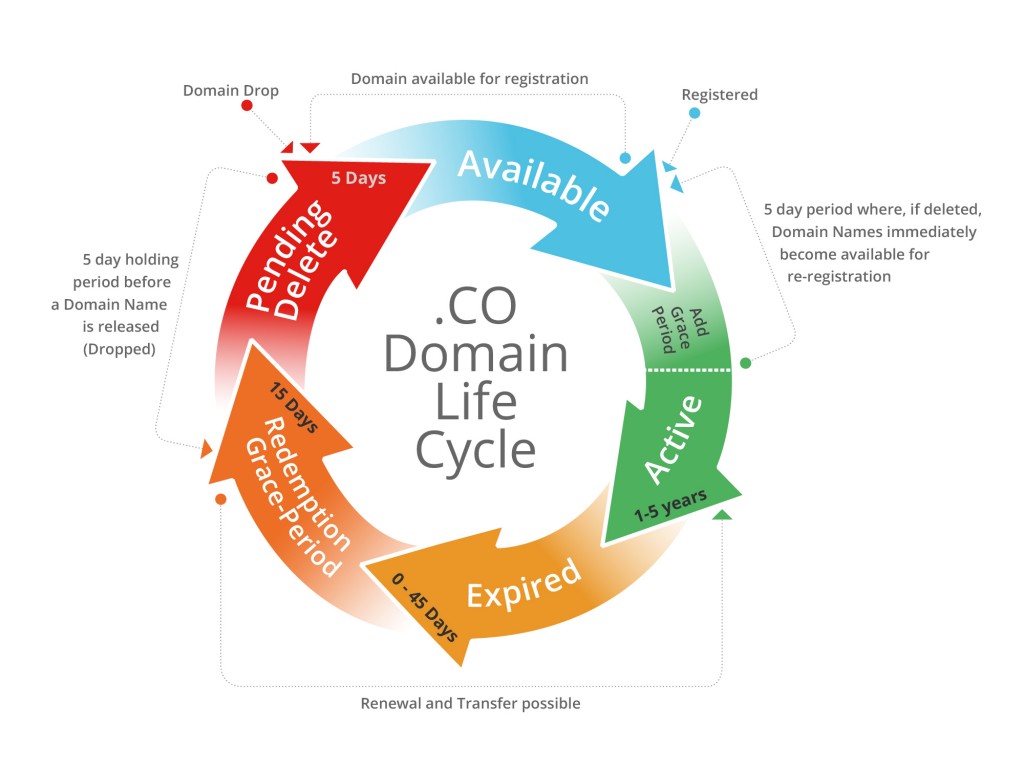 Click on the above Image to see a larger view.