Having just returned from my 4th experience as a marketer at SXSWi – I am struck by the number of times I've heard people say "we need to find a way to rise above the noise" and to "cut through the clutter" to get noticed.  Here's a reality check to all of you startup marketers out there: You can't. And you are only making it worse by trying.
The days of a small startup breaking through and launching with a huge splash in Austin are pretty much over. The festival has been noticed by the big brands, and they have the budget to buy out every bar and restaurant, and the voices to yell a lot louder than you.
After spending the past 3 years yelling and shouting with everyone else, we decided to take a different turn this year – and build our own HQ at the W Hotel where our .COmmunity could call their home away from home for their time in Austin. Here's a full breakdown of what happened at the .CO HQ this year and here are my key takeaways:
1. Whispers are more interesting than shouts. Small, intimate gatherings trump large chaotic events. Even Gary Vaynerchuk commented during his session at the .CO HQ that he was struck by the chaos that happened after his keynote session at the Convention Center – there were too many people who wanted his attention, and he couldn't get to them. "But now here I am in the intimate setting with you 50 people – this is what makes SXSW worthwhile, and you can still find it if you look"… plus, you can get a photobooth image with Gary V kissing you, if you play your cards right: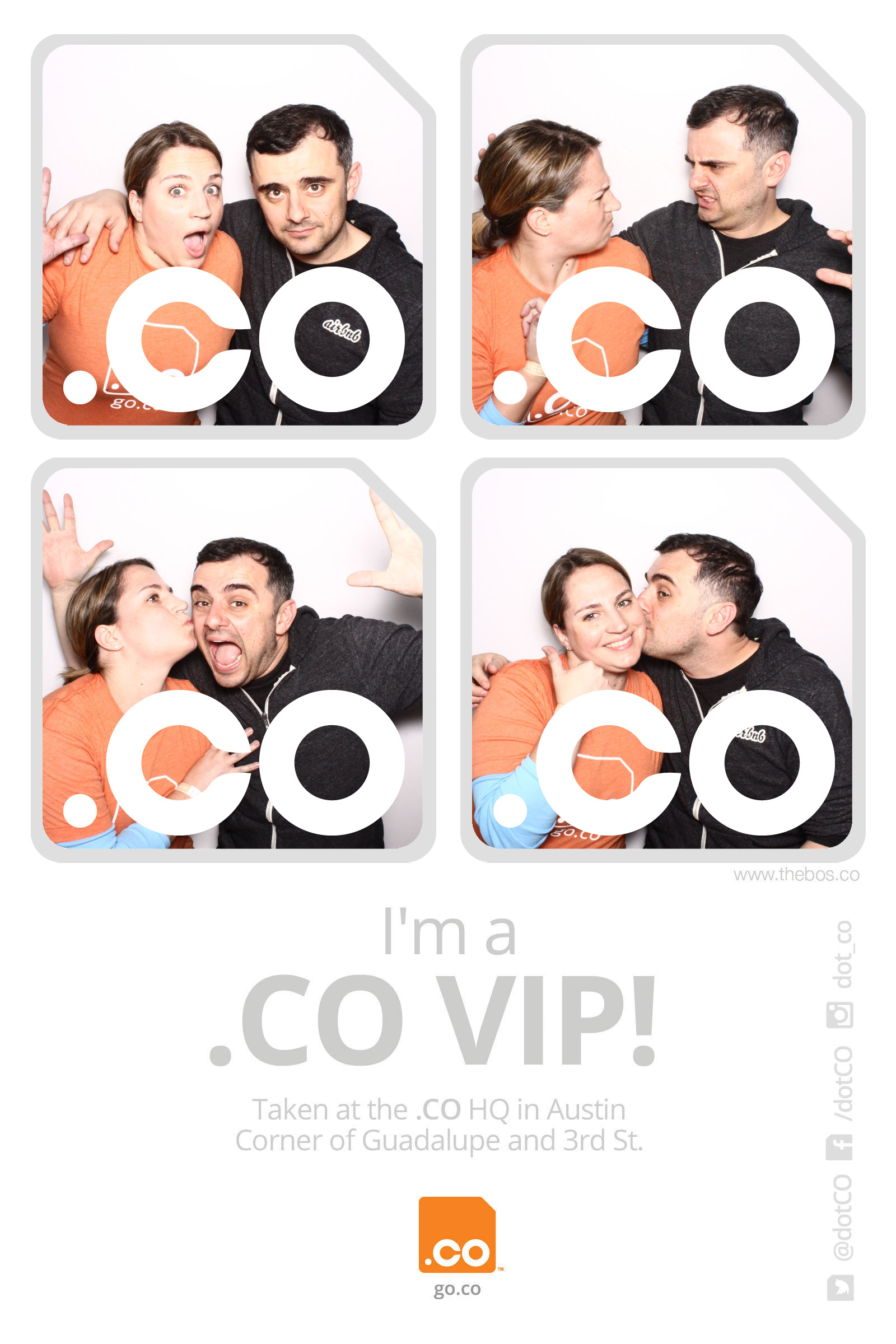 2. It's about presentation. How many different colored sunglasses and cheap handouts did you leave behind in your hotel room in Austin? I'm pretty sure the person who cleaned my room is psyched for all the goodies they picked up. If you are focusing on a smaller crowd, one of the benefits is that you can spend the same budget on swag (or schwag, depending on your stance on the verbiage issue), and get better quality gear that your audience will actually cherish, to keep your brand close to the hearts long after they leave Austin behind.
3. Stop yelling at people, start listening to them.  At .CO, we know that the best exposure for our brand is showing off all of the amazing entrepreneurs who are building their businesses on a .CO.  That's why instead of spending our time at SXSW telling people how great .CO is (and, believe me, it's pretty darn great!) – our .CO HQ focused on giving our .CO-ers a platform to share their own message with the world – a place to connect and engage with their customers and prospects, as well as other .CO-ers.
From a huge wall of pride, showcasing some of our top .CO customers, to workshops and panels featuring awesome .COers like NewCo, Decoded, and DJSkee, to video interviews of many other .CO-ers by TechCocktail – we focused our tiny little sliver of Austin on giving our customers a place to relax, recharge, and enjoy delicious Torchy's tacos, coffee and cocktails in the company of friends. From the reactions we've gotten so far – I know that got our message across much more than any banner plastered across Red River ever could have.
As we all enter our SXSW recovery mode and get back to replying to all those emails piling up in our inboxes – let's make a pact to make Austin even more awesome next year. Let's stop yelling at each other, and start talking with each other. That's what made the festival awesome to begin with.
See you next year!