Ben Lim founded NEXEA Venture Capital, Angel Investment & Accelerator in 2015, together with a few partners and has since been managing the deal flow and investments into startups.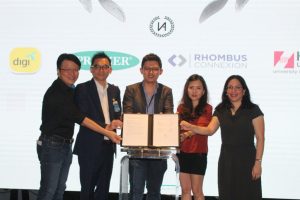 With Ben's experience in validating startups, he has been an advisor and manager for over a 1000 startups, from MVP (Minimum Viable Product) to investability as well as aiding in fundraising strategies. He also ran three accelerator programs with Watchtower & Friends and Sunway iLabs and other corporate partners like AWS, Google Cloud and IBM to name a few.
So what's NEXEA?
NEXEA is a leading venture capital (VC) & Angel Investor hybrid. NEXEA also serves as a startup accelerator for early stage companies looking for funding, investments, and mentorship."We focus on not only delivering seed capital but also the best-in-class support via our exclusive and top-tier angel investors, mentors, experts, and partners."Over the years, NEXEA has served as an incubator/venture builder and investor for over 35 startups across Southeast Asia, and has built a strong reputation for itself.
"NEXEA is backed by experienced entrepreneurs who have done their M&As and IPOs or are CEOs of publicly listed companies. More importantly, they want to give back to the next wave of entrepreneurs through investments and mentorship."

What is the biggest challenge you've faced with NEXEA?
"We have had to grow with very limited resources in our early days, trying to reach out to and grow our investor base. Getting startups was hard too at the beginning when nobody knows the brand. Slowly but surely, we grew our startup and investor base to what it is today," said Ben.
"I am proud of what NEXEA has achieved so far, along with all our partners. We have funded over 35 startups, ensured that over 50% of the startups that go through our accelerator program receive post-program funding, and partnered with the top 30 investors and mentors."
Do you have any advice for your younger self?
"Power through challenges, and keep on trying different methods until it works out. Seek advice on getting around problems. Fail fast but fail smart to succeed faster. There is nothing that can't be solved."
What made you go .co?
"We chose a .CO domain because of the extensive support. So far, everything has worked out well."