Alyse Speyer has successfully created and maintained sustainable brands through traditional, online, and mobile marketing channels, utilizing web content, social media, advertising, search, lead nurturing, and integrated strategies. She currently works at Yola, a free website builder that helps small businesses and individuals get online without hassle, cost or fear.
It's no surprise that Twitter poses a huge opportunity for small businesses. Its recent IPO valued the company at $24.9 billion.  The company has also showed explosive growth since it started with 231.7 million active users. As a small business owner, looking to take a step into the world of social media, you should take advantage of what this channel has to offer your company, and expand your business's reach one 120-character message at a time.
Continue reading, we have a variety of tips to getting your business Twitter account on the right track!
Giving customers immediate support
Having a Twitter account for your business is great for customer support. The beauty behind tweeting is interactions are quick, brief and much more personal than automated message machines or emails. Where responding to inquiries via email can be time consuming with formalities or sometimes perceived as impersonal, Twitter's 120-character limit keeps responses to the point.
Because such a short time is needed to send a tweet, your responses must be prompt. Think of it this way, it takes a customer a mere 90 seconds to write a complaint – if your response time takes more than 24 hours, you could be leaving money on the table. Also, keep in mind that Twitter is a public forum; therefore your responses, as well as those of your customers, are broadcasted to the entire Internet. Work this to your advantage. Responding in a friendly, conversational manner will earn followers, boost your credibility and build stronger relationships with your prospects and current customers.
Sales, promotions and discounts
Having active followers is the key to successful Twitter traction. How do I gain these followers, you ask? To start, it's important to note that no one willingly follows a company to be bombarded by unrewarding advertisements. Your company's social media content must be interesting and beneficial to your users. Try tweeting conversational notes and discussion points that are relevant but not necessarily directly related to your business.
A great way to promote your business is to periodically have contests where followers retweet (RT) to win a prize. Below is an example of a RT contest EA held – within an hour and a half, they had over 550 RTs, furthering their reach with just one click!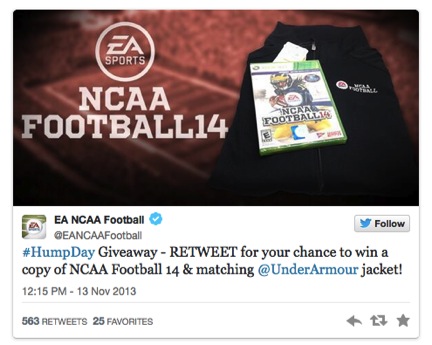 Keep up with the times
Maintaining followers is as important as attracting them. Keep your viewers on their toes by posting fresh, up-to-date content daily. Look for current events that relate to your business, and always look for new ways to relate to your audience.
A brilliant example of this was a post by Miller Lite following the TV show Breaking Bad's series finale, which had a viewership of 10.3 million people.  The tweet caters to a specific audience and maintains a friendly sentiment, thereby giving a personality and gently opinion to the brand.
As you can see, Twitter is a great way to support customers, connect with prospects and let your company's personality shine. Once you've thought out how you want to approach your Twitter channel, be sure to add Twitter posts to your social media content calendar to ensure your company doesn't go a day without a tweet. Now get out there and start tweeting!