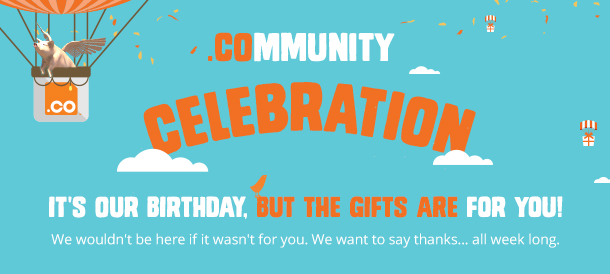 Join us as we celebrate .CO's 4th Birthday… all week long! We're calling it our COmmunity Celebration because while it may be our birthday, the celebration is for YOU. Four years ago, it all started out with a dream to build a community of innovators, movers and shakers…. Today, the COmmunity stretches across millions of people in countries all over the world. The best part is that we all share a common bond – we all chased a dream, took a risk and worked our hardest every day to make it happen – not letting the naysayers and "wantrepreneurs" hold us down!
What's a birthday without a party? Our online celebration kicks off this coming Monday, July 14 through Friday, July 18 we'll push a new and exciting offer live on our Membership Program. Make sure to follow us on Twitter (@dotCO) and/or Facebook (/dotco) to get the announcement as soon as each offer is posted live! … oh, and each day you can also tune into Twitter to play a little good ol' trivia with us for a chance to score some .CO freebies as well – you know, because it's not a proper .CO party without some swag. 🙂
On that note, here's a little bit more about what we have up our sleeves for .CO-ers all week long!  All of these offers will be posted in the Membership Program – so if you have your .CO, be sure to get signed up there so that you can redeem them each day – for many, quantities are limited!
Show the world that you're proud to be a .CO-er. We're launching the official .CO Swag Shop and we're treating you to a t-shirt (or $10 off your item of choice)!
Free tickets to 500 Startups' hot new event, Weapons of Mass Distribution (WMD.co) in San Francisco this August.
We're hooking you up with an exclusive Amazon Web Services deal. Get 1:1 training with a Solutions Architect, $100 credit and more! 
We're delivering great reading to your door. Score a book bundle including: "Delivering Happiness" by Tony Hsieh and "Startup Mixology" by Frank Gruber. Happy reading!
OK, we've told you enough already… You'll have to tune in on Friday to find out the final big surprise that we have up our sleeves. HINT: Think a big tech event, booth space to promote your startup and travel expenses COvered…. Oooh lala!
Once again, thank you for being a member of the COmmunity. You've embarked on this journey with us and in many ways we've grown together to reach new levels of success. For that reason, we celebrate YOU this week and we hope that we can continue to make strides together and .CO-ify the world…cheers to another year!