Fashion designer Carolina Velez studied Fashion Design in Medellín, Colombia, where her passion lies in her roots –  traditional Colombian art and craftsmanship. Amongst an era where designers are pushed to produce with rapid speed and maximum efficiency, her designs blend ancient, skillful artistry with contemporary and elegant style. Her brand, Oropendola.CO, focuses on local craftsmanship in order to develop wearable art. "My mission is to enhance Colombian craftsmanship. I want to highlight the work of the artisans and showcase their abilities to the world. I want to make them capable to create what they want; pieces they haven't even imagined they could create."  Summarizing her motivations, Carolina says, "Our people, our artisans, their stories are what inspire us".  The pieces Oropendola creates are invaluable not in monetary terms but because of all the stories belonging to each person involved in the process of making them.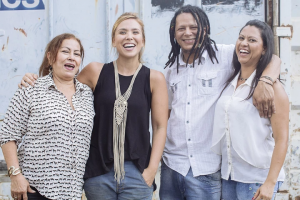 Carolina is a Designer on a mission, and one wonders how she manages it all. "One of the biggest challenges working with artisans is that they're artists, they don't know the concept of time. They don't manage deadlines, they don't think about pricing, the people involved, the processes, the inventory. It's difficult to manage their time, with our time and people's time."
As an entrepreneur she has learned that it is crucial to understand and accept that you're not going to know everything. "You don't have abilities in all facets of the business. You need to believe in others and their expertise to build a solid brand, or a company". Her advice to others thinking of starting a business is to "build their business on their passion because that's what is going to motivate them to overcome any obstacles". She believes that the qualities for someone who is starting a business are passion, persistence, humility and a sense of community, Carolina says "a sustainable business is about thinking about other people's needs."
Carolina is a staunch supporter of her female workforce and offers this piece of advice. "A factor that helped our brand grow is that it is focused on women.  Women support each other, they communicate, they connect, and they help to spread the word". Her vision is to empower women by creating fashion items that make women feel important, powerful and unique.

For those that don't know, the name Oropéndola references a native bird from South and Central America. When naming her business, Carolina drew inspiration not only from the beauty of the bird, but it's migratory patterns, "At Oropéndola we talk about migrating to different artisanal knowledge, as a metaphor for our desire to stay current and strengthen that knowledge." The Oropendola website, supports bringing local Colombian artisan fashions to a global audience. Like Carolina's handcrafted pieces she chose a .CO domain because it represents Colombia and puts local artisans on a global stage.  She wants her brand to raise awareness around the unique cultural wealth, local trade craftsmanship, and the true value behind her Colombian product – the stories behind the local artisans that build them. At Oropendola.co, luxury design meets local artisan techniques, in an ever-evolving handcrafted fashion powerhouse.
Carolina, is working on future opportunities for her and the Oropendola brand and there are many more hurdles she is determined to clear. She wants to expand to new communities, involve new artisan groups, and explore new techniques and materials in her designs. One thing we know for sure, is the fashions and stories behind each of the Oropendola pieces keeps us coming back for more. As Carolina says, success transcends economic opportunity and is about generating human relationships and improvements in the quality of life of the people involved with each project. "It's about believing in each other." We couldn't agree more.