As a self-starter, Kiri-Moana Proctor knew from a young age the only person she wanted to call "boss," was herself. She started running a Fish & Chip shop as her first job in school and found herself enjoying the autonomy and leadership that came along with it. She vowed that she would never work for anyone else again.

At age 21, Kiri launched her first business, working as a beauty therapist and nail technician. Although she moved to several different cities throughout her twenties, Kiri always found herself starting small businesses or projects wherever she went. She knew she could set a goal and push herself to deliver on whatever new milestone she was looking to achieve. Living in London at the time, it was the upcoming birth of her son, which brought Kiri home to Australia and dramatically changed the trajectory of her entrepreneurial journey forever.
The Pants that Started an International Craze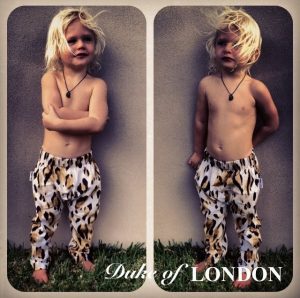 Back in Australia, working as a single mom at 28 years old, Kiri was balancing her beauty therapist responsibilities with the role as a new mom to two young boys, Duke and London. As a long-time fashion enthusiast, dressing her boys in stylish and comfortable clothes was a priority for Kiri.  She became increasingly frustrated with the lack of options in boy's fashion. She couldn't find any styles that fit the bill of "style and comfort." After exhaustive searches turned to dead ends, Kiri decided to take on the hobby of designing clothes herself.
There are a lot of amazing brands and designer labels out there that look good, but don't feel good. – Kiri-Moana Proctor
Kiri's first project? A bold pair of cheetah print pants. Kiri sourced the fabric, developed the design and sewed the pants herself. Her son London proudly donned the design in a picture posted to Facebook which soon went viral. Requests for a pair of the same cheetah print pants quickly flooded Kiri's inbox.  These would later be known as the pants that started it all!
From a Single Facebook Post to an International Phenomenon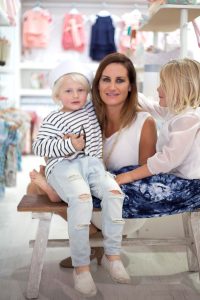 New to the clothing manufacturing and the design industry, Kiri waded into the design business slowly starting with single print and style releases. Each new style that was launched, consecutively sold-out within minutes on the web. It was these fast sell-outs that led Kiri to believe, "I may be on to something."
With growing demand for her comfortable and stylish designs, Kiri began to build her business. Secure sourcing, manufacturing, launching a website and deciding on a brand, Duke of London (DukeofLondon.co), after her sons Duke and London of course!
Comfort is of utmost importance in all the Duke of London designs, aiming to strike the perfect balance between "uber-cool and utter-comfort." Kiri's designs push the boundaries on gender norms for kids, interjecting bold prints and androgynous styles. "We are not stereotypical here," Kiri says. When asked about her inspiration, she adds, "I love seeing children in our clothes, and I love hearing that they love them."
Now, 36 years old, Kiri has grown Duke of London into a global success. Currently in its sixth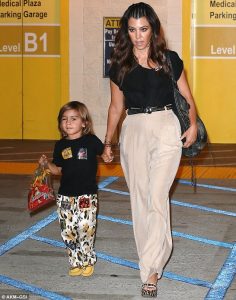 year, Duke of London has the international attention of mega-superstars like the Kardashian's, the Stefani/Rossdale boys and most recently Chris and Elsa Hemsworth's children. With a roster like that, Duke of London isn't slowing down anytime soon. Although available internationally, Kiri wants Duke of London to be seen as a global brand. "It's important to me that we aren't restricted to a specific country. That's one of the reasons we chose a .CO domain. We want to be seen as a global brand." Kiri is focusing her efforts on continued development internationally and sourcing manufacturing, securing retail outlet and building her global brand.
 It's like a dream job for me. I feel very lucky to get to do what I love every day and I don't think I'll ever get sick of it. – Kiri-Moana Proctor
Advice for Aspiring Entrepreneurs
Looking to launch your own business? Kiri shares some of her learnings from Duke of London:
…do not over-capitalize in the first couple of years and to live within your means to take pressure off financially and just grow as your business allows you to. Do a lot of research on where you're going to spend your money and ask those questions you don't want to ask to find out if you're investing in the right place. A lot of people get taken for a ride. – Kiri-Moana Proctor
Kiri's Duke of London business is 100% self-generated. All of her investments were made by re-investing profits from her beauty therapist business one set of nails and one spray tan at a time! "It was that slow process that allowed me to learn along the way," Kiri explains. Within a year her business had completely exploded.  Kiri's mantra, "I believe in positive thinking – what I put out, I get back." Positive energy like that is something we all can believe in.
Ready to get your own idea off the ground? Get on the web the way you want to with a .CO domain. Find yours now.